This year, for the 13th time, ten young talents have been been recognised with the Junior Prima Award in the Hungarian music category. We are greatly pleased to report that the list of winners includes one of our orchestra's cellists, Mátyás Hotzi!
"It is a tremendous honour for me that the panel has considered me worthy of receiving this huge award! I think that this distinction is one that is also shared by my teachers, who have accompanied me and helped me along my entire path. I am deeply grateful to both them and my family, as well as to everyone who has supported my work thus far. This recognition has raised the bar very high for me, because many of those who have received it in the past are now pillars of the Hungarian music world."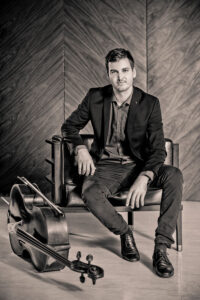 Comprising this year's crop of other winners are pianist Mihály Berecz, opera singer Anna Csenge Fürjes, composer Balázs Kecskés D., percussionist and composer Dániel Láposi, organist Zsolt Máté Mészáros, violinist Éva Osztrosits, trombonist Dávid Sztranyák, violinist and jazz pianist Petra Várallyay and pianist Mónik Ruth Vida. The awards were presented by the head of the jury, Andrea Vigh, a Liszt Award-winning harpist and the rector of the Franz Liszt Academy of Music. For the first time in the history of the Junior Prima Awards, the ten winners also performed an online gala concert after the presentation of the awards.