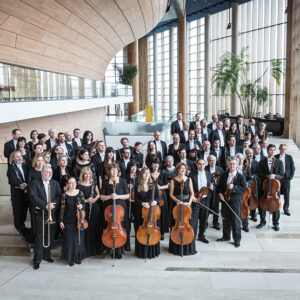 The Hungarian National Philharmonic Orchestra has been one of Hungary's leading symphony orchestras for over ninety years. The era marked by the name of János Ferencsik and Kobayashi Ken-Ichiro was followed by a new chapter in the history of the orchestra when in 1997 Zoltán Kocsis became general music director until his death. In almost two decades the National Philharmonic Orchestra underwent renewal. After the death of Zoltán Kocsis, the Ferenc Liszt Award-winning Zsolt Hamar held the post of Musical Director at the Hungarian National Philharmonic from March 2017 to August 2020. He previously worked with the orchestra as its first permanent conductor and built up an impressive international career.
The Orchestra is one of the top interpreters of the work of Béla Bartók, and the albums of the Bartók New Series have won numerous accolades in Hungary and abroad. The orchestra perform not only classics but also numerous other important works previously missing from the repertoire, many of which require a large orchestral apparatus. It attaches great importance to introducing contemporary Hungarian works to the audiences. It has given many popular chamber music concerts and hosted events for young people.
The orchestra's concerts have featured world-famous soloists and conductors. It supports young musicians recently embarked on an international career. In recent decades, the National Philharmonic Orchestra has appeared in the greatest venues and festivals around the world, including the Avery Fisher Hall in New York, the Suntory Hall in Tokyo, the Birmingham Symphony Hall, the Megaron in Athens, Bozar Centre in Brussels, the Enescu Festival in Bucharest, the Beethoven Festival in Bogotá, as well as the Colmar and Canary Island Festivals. In the past two decades, the National Philharmonic Orchestra has given more than 330 concerts in some 40 countries.